PALO ALTO, CA—(Marketwired – Nov 18, 2014) – MOCACARE today unveiled a Kickstarter campaign to fund its initial production run of MOCAheart, a portable health tracker designed for checking heart and blood health anytime, anywhere. This innovative tracker overcomes restrictions to traditional solutions and makes it easy for people to notice changes in their heart and blood health. MOCAheart gives people the reassurance of immediate health insights, with the ability to promptly and confidently seek medical care if the need arises. MOCAheart's communication layer allows users to unobtrusively care for the health of their loved ones.
"We all have family members who need to be on top of their health conditions throughout the day, but are often deterred by the restrictions of current manual equipment," said Naama Stauber, COO at MOCACARE. "We designed MOCAheart to give people of any age an effortless way to monitor their health, and we added a communication layer so they could stay updated on their parents' and family members' health, as well as offer encouragement and support. MOCAheart can be can be helpful to people who suffer from various medical conditions, not limited to high blood pressure, various heart conditions or risk of preeclampsia."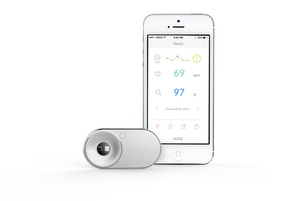 MOCAheart uses a medical–grade electrode to capture heartbeat activities, blood velocity and blood oxygen level. These measurements are interpreted by MOCAheart to generate MOCA INDEX, a revolutionary measurement related to the user's blood pressure. MOCA INDEX reflects the user's heart health status on a qualitative scale of zero to four — low, ideal, raised, high or very high. The purpose of the MOCA INDEX is to provide a qualitative indicator with actionable recommendations when measurements are out of range.
Taking measurements with MOCAheart is simple and intuitive for people of all ages — the user simply places two fingers on MOCAheart's indented sensor and electrode surface. MOCAheart discreetly fits into a purse or pocket, or conveniently mounts on MOCACARE's customized iPhone case or keychain. With a stylish minimalist design, ergonomic shape and the highest medical–grade stainless steel, MOCAheart sets a new standard for tracking personal health that fits into any lifestyle.
What separates MOCAheart from other heart health trackers is that it's built around the need to care for and communicate with loved ones. MOCAheart's app is based on contacts and a messaging interface, letting users notify family or close friends of their measurement or location, enabling them to unobtrusively participate in the health management process. This introduces an important element to any health regimen.
Jerry Hsu, designer at MOCACARE continued, "The MOCA app is designed to improve care and support as much as it is designed to improve health tracking."
MOCAheart's Kickstarter campaign runs through December 24th. Early backers have the opportunity to purchase MOCAheart for as little as $119 ($50 off the retail price), and receive a number of other incentives reserved for Kickstarter backers. Visit www.mocacare.com for more information.
About MOCACARE
MOCACARE's mission is to improve the quality of life for its users by creating solutions that bring together the very best in health, technology, science, and comfort. The company's multidisciplinary team of scientists, engineers, designers and physician studied at Stanford, California College of the Arts, and John Hopkins University. MOCACARE was established in 2013 and is headquartered in Palo Alto. The company has an engineering center in Taipei and team members are from Israel, Poland, Taiwan and the United States.
Image Available: http://www2.marketwire.com/mw/frame_mw?attachid=2722170

Embedded Video Available: http://www2.marketwire.com/mw/frame_mw?attachid=2722172